Ready Made Garments in Vietnam
Are you looking for ready made garments in Vietnam? Thai Son is a family owned business that has been producing knitwear garments for more than 20 years. We offer a service to customers who want to manufacture their own ODM clothing but don't have a design team. Our team consists of fashion designers, buyers, production managers and quality controllers. This is what we mean by we offer ready made garments in Vietnam. Our 2 sample lines and 15 production-sewing lines back up our private label manufacturer in Vietnam team – small or large quantity is not a problem.
Because of our location in Ho Chi Minh City, formerly known as Saigon, and because of our extensive network of accessory suppliers we are able to offer a wide range of designs at low wholesale prices. Our team speaks English and has a standard operating procedure that is streamlined. That is what makes us one of the best the supplier of ready made garments in Vietnam.
Target
was looking for a Oeko Tex Certified Vietnam Garment Manufacturer and found us. We offered them our styles and they ended up contracting us as a FOB manufacturer. We acted as an Oeko Tex Fabric Supplier and produced hoodies in high volume with low margin.
Big Striped Jersey Slub Dress
How do we get started working together with you?

We make garments based on your design direction. When we receive your information and target price we will start putting initial ideas together.

For each style we consider the following:

1. Sketch of the Garment (include pantone colors, stitch type, print patterns, etc.)(.pdf or .jpeg)
2. Dimensions for Each Size
3. Quantity for each Size
4. Accessories (buttons, zippers, draw strings etc.)
5. Print Design, size and colors;
6. If there is embroidery then we need to know the needles per inch and see an image of the embroidery.

Administratively we need to know:

1. Shipping Destination
2. Payment Terms (Letter of Credit is preferred)
3. Lead Time
3. Delivery Date

Send us your ready made garments in Vietnam ideas today!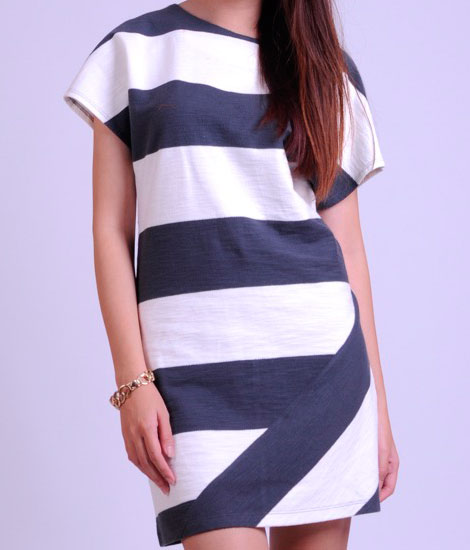 Let's talk to see if Thai Son can help you!
Hi, I am the marketing manager for Thai Son S.P. I am an American and speak English, German, Spanish and Vietnamese. My role is to listen to your story, understand your needs and figure out if Thai Son S.P is the right factory for you. I have been working for them since 2008 and know what they can and can not do. After we talk, I will arrange for you to meet our vice director, Mrs. Sim who is the decision maker in our organization.
If we are not a good fit for you then I can help you find what you need in Vietnam.
Remember
Thai Son S.P Co., Ltd. produces men's, women's and children's garments using circular knitted fabrics. We buy yarn and convert it into the fabric you need. Her team has experience producing both fashion and sports styles.
Please note:
1. We only do FOB orders. Not CMT.
2. Our minimum order quantity is 2,000 pieces per style.
3. Our payment terms include a downpayment.
Talk to me today on Skype!
Company Profile
BSCI Certified
SA 8000 Certified
Three Locations
600 Workers
MOQ 2,000 per style

Contact Information
Mailing Address
Thai Son S.P Co. Ltd
143/11H Ung Van Khiem
Ward 25, Binh Thanh Dist,
Ho Chi Minh City, Vietnam
Zip Code: 700000
Tel. +84 (0)903926973
Attn: Ms. Sim